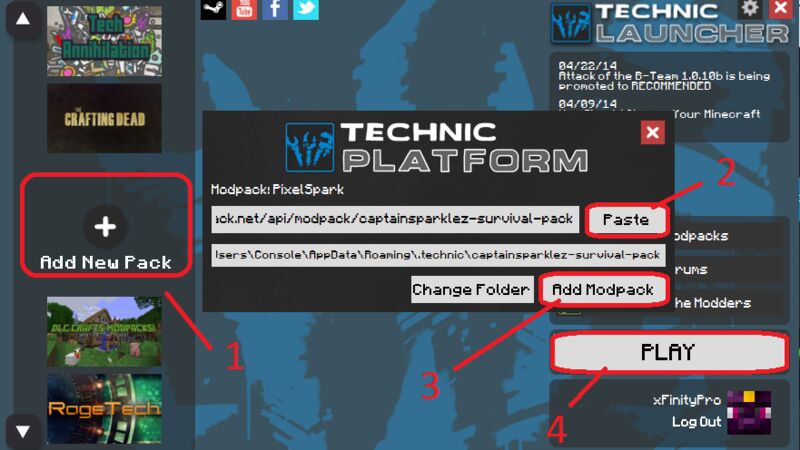 ---
TheNodeMC Pixelspark
---
Pixelspark ----> IP: spark.thenodemc.com
You really don't even need the ip, we are a recommended server so as soon as you download the modpack you will see us on the multiplayer listing!
Check out our awesome website!
---
What is Pixelspark and how the heck do I join!!>!>!!
---
What is Pixelspark
Assuming you've played Pixelmon before, have you ever wanted to venture through pixelmon in a difference style? That's just what PixelSpark is! This modpack is meant to give a whole new aspect to playing pixelmon/pokemon. With enhanced customizations and modifications to improve gameplay experience. We're offering the best environment on technic! We keep the pack upto-date with the latest and best mods that BEST fit "pixelmon"'s theme/description.
How do I join?
There are 5 simple steps to joining our server.
Download the technic launcher from http://www.technicpack.net/download or click one of the links below
Open your launcher and click the button on the left side that side Add New Pack

Copy this http://www.technicpack.net/api/modpack/captainsparklez-survival-pack and click the button that says paste

Click add modpack

Click play and go into multiplayer, our server will already be in the listing as TheNodeMC
If you do not understand the instructions to join scroll up for a picture on how to launch PixelSpark.
---
Server Features
---
Friendly Staff
Unique Players
Minimal Lag
Gym Leaders
Protection against Grief
Large world border
Voting Rewards
Starter Kit
PVE
Free commands and ranks
Riding Pixelmon Enabled

---
Server Specs
---
CPU: E3 1270v3
RAM: 32GB EEC DDR3
HDD: 240GB SSD & 2TB HDD
Uplink: 1GB/s
There are no reviews for this server yet, you can be the first!