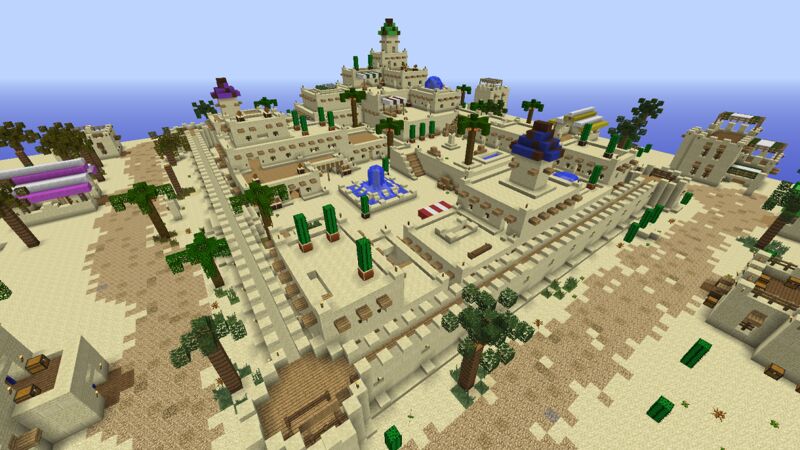 Join us for a unique server experience that allows mature players to get the best they can out of MineCraft's original purpose: BUILDING & Adventure! DreamCraft2.0 is a Modded Towny Survival Server run by Caveman2001 and Kalleigh6694, husband and wife Minecraft/Towny fanatics! This modpack/server is for the mature player who wants to put in the time conquering Pam's HarvestCraft, Hunger OverHaul & Spice of Life before embarking on an ever-expanding map filling up with puzzles, quests and adventure ... to start a town with the best protections available! Yes, there is tech but it has been "tweaked" to push the limit of creativity as players move through the game!
Like to Build? ... Enjoy a Challenge? ... Appreciate Adventure? - Then Come Check Out DreamCraft2.0
No Break & No Build in the Wild OverWorld but the ability to create towns and even claim land along Server Roads with integrated Towny protections enable Mayors to run FABULOUS towns with plot by plot permissions! A separate Resource World to gather supplies ensures a BEAUTIFUL OverWorld with ZERO RESETS (Resource/End & Nether are Reset Regularly).
Mods and Plugins were chosen specifically to maintain a survival feel within a Towny Server. While not an impossible modpack, things are configured to make players think about game progress! A list of some of the mods and plugins is below.
Like Adventure? In Game Puzzles, Quests and Treasure Locales leave LOTS of room for exploration!
RANKS can be achieved on a Time-Play Basis and lead to cash and some additional Perms In-Game ... EVERY Player can experience the most the game has to offer!
While a SURVIVAL SERVER, there is an ECONOMY supported by players and maintained via ChestShops, Vendor Blocks, Tradebooths, Lottery and Jobs!
No Overly OP Donator Perks - DreamCraft2.0 is here to stay and encourage gameplay and building within community! Our players are here because they WANT TO PLAY and the ones who donate do so because they love DREAMCRAFT2.0
Only A Few Months Old, this Modpack and Server is HERE TO STAY!
Mods Include:
•Hunger OverHaul
•HarvestCraft
•Biomes O'Plenty
•AE2
•Balkons Weapon Mod
•Big Reactors
•BuildCraft
•Carpenter's Blocks
•MineFactory Reloaded
•NEI
•Tinker's Construct
•Iguana Tweaks
•Trade booth
•Vending Blocks
•WAILA
•HeadCrumbs
•CustomNPCs
•Cooking For Blockheads
•Spice of Life
•Bibliocraft
•Simply Jetpacks
•MapWriter2 & More
Plugins Include:
•Towny
•ChestShop
•BookRules
•Lift
•Lottery
•OnTime
•PhatLoots
•Jobs Reborn & More
Looking to Learn About Modpacks and Modded Servers? We are a GREAT Place to Start! Friendly Community and LOTS of Information! Here is how you can Download DreamCraft2.0 today:
TECHNIC LAUNCHER: https://youtu.be/WdIR0dxjQSA
Keep Up With ALL THINGS DreamCraft2.0:
WEBSITE: http://www.dreamcraft2.com
YOUTUBE CHANNEL: https://www.youtube.com/channel/UC37KDj0hryDfKllugdrkklg
TWITTER PAGE: https://twitter.com/DreamCraft_Kall
FACEBOOK PAGE: https://www.facebook.com/DreamCraft20-391711197865907/